Film Industry — Bollywood Films
film industry -Movies were released this week, Browse this page for the latest updates from the world of Hindi cinema. That includes the latest Hindi film available in theatres or on popular OTT platforms such as Netflix, Amazon Prime Video, and also Disney+ Hot star, among others.
The Indian moviemaking industry began in Bombay in the 1930s and developed into an enormous film empire.
After early Indian experiments in silent film, in 1934, Bombay Talkies, launched by Himanshu Rai, spearheaded the growth of Indian cinema. Over the years.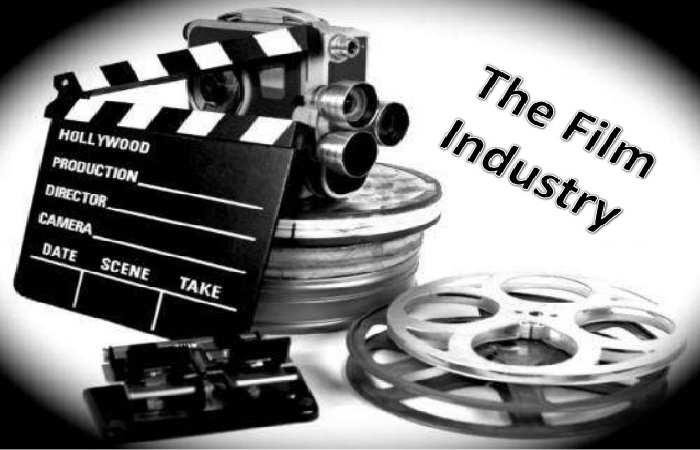 Several classic genres emerged from Bollywood: the historical epic, notably Mughal-e-Azam (1960); the curry western, such as Sholay (1975). The courtesan film, such as Pakeezah (1972). Highlights stunning cinematography and sensual dance.
At the turn of the 21st century, the Indian film industry—of which Bollywood remained the most significant component—was producing as many as 1,000 feature films annually in all of India's major languages and a variety of cities, and international audiences began to develop among South Asians in the United Kingdom and the United States.
Standard features of Bollywood films continued to be formulaic storylines, expertly choreographed fight scenes, spectacular song-and-dance routines, emotion-charged melodrama, and also larger-than-life heroes.
Latest Lists of Films
Jai Bhima
This legal drama, which portrays the grim reality of our society's deeply rooted caste system, revolves around an actual incident from 1993, which involves a case fought by Justice K Chandru.
Directed by T J Gnanavel, this movie features Suraya and Lijomol Jose in prominent roles. The movie is currently the highest user-rated movie on IMDb and has become the first Indian movie to achieve the feat.
Shershaah
Directed by Vishnuvardhan, this biographical war movie gives us an insight into the life of Cargill's war hero, Captain Vikram Batra. With a flawless plotline and soundtrack.
This movie features Sidharth Malhotra and Kiara Advani in the lead roles. There's no doubt that this movie will take you on a roller coaster ride of emotions.
Sooryavanshi
The plotline of this action-packed movie revolves around the chief of an anti-terrorism squad, who joins forces with two other officials to stop a terrorist group planning to attack their city.
Rohit Shetty directs the film, the movie stars Akshay Kumar, Katrina Kaif, Ranveer Singh, and Ajay Devgn.
This movie will keep you hooked to your screens with the perfect amount of foot-tapping music and drama.
Why is the Film Industry role being Important in Indian?
In 1995, a movie called Dilwale Dulhania Le Jayenge swept India. It became an instant classic and cult hit. The short synopsis of the film is that Simran.
An Indian girl who grew up in the UK under a rigorous father has been promised as a bride to a young man in India.
First, Raj, the boy she fell in love with during a road trip in Europe, lastly follows her to this small town in India where wedding preparation is underway and also wins her family over.
Bollywood is correct in expressing what it wants and also telling its stories. They have rejected censorship as a tool to "elevate" the kind of content they generate.
Some writers have argued that only blaming the producers of pop culture is dangerous and also, that the audience needs to introspect as well — Shugart Dasgupta pleads with audiences to "question the invariably sexist, xenophobic, homophobic, plain stupid assumptions of the pop culture we consume."
 Basically, Film Industry Use Urdu So Instead of Hindi in songs
Take any dialogue from Hindi films. Over 90% of Bollywood movie Dialogues, so song Lyrics, and also Movie titles are in the Urdu language. Moreover than 90 per cent of them are in Urdu.
And also, urdu played a crucial role in the growth and development of Bollywood.
Many Urdu poets/writers like Jawed Akhtar, Shahir Ludhianvi, Shakeel Bedouin, Majoron Sultanpuri, Nida Fazli, Irshad Kamil.  Salim Khan has immensely contributed to Bollywood.
Facts of Film Industry
But here are some things you might not know, courtesy of Sonoma State University theatre and also film professor Ajay Ghemawat, whose new book, 21st Century Bollywood. Correlates with his recent Bollywood and Globalization class.
All Bollywood films are from India, but not all Indian films are Bollywood films. In Madras. Calcutta and other regions, there are other regional film industries.
Bollywood movies are more about music and also film. A different director shoots the "music videos" in Bollywood films. And also, the music and also voices are recorded first in a studio but before the cameras start rolling. A completely different cast does sing, and the film's dance numbers are always lip-syncing.
Conclusion
And also Mumbai, India's entertainment capital and home to Bollywood, but one of the world's most prolific centres of film production. Bollywood is not a name for the Indian filmmaking industry. And also, it is for the country's Hindi film industry. Films are made in various other languages in India.
Also Read: Hema Malini – Biography, Career, Lifestyle and More