Sudha Chandran – A Very Success Story About
Sudha Chandran had a great passion for Indian classical dancing from her childhood. She performed at several events in her school life and did hundreds of stages shows.
Unfortunately, at the age of 16, she met with a significant accident in Tamil Nadu. This resulted in her right foot getting gangrene insufficient blood supply, and because of the fear of it spreading to the other parts of the body, her right leg was amputated and replaced with an artificial limb.
Her strong willpower helped her start dancing again. She started her career as an actress in a Telugu film named "MAYURI" based on her own story. Later she acted in several other movies and television serials.
Personal Life Status of Sudha Chandran
Sudha Chandran, born 27 September 1965, is an Indian actress who appears in Indian films and television shows.
Height: 5' 7" (Approx.)
Weight: 70 kg (Approx.)
Figure Measurement: 37-34-37 (Approx.)
Their disabilities have never been an obstacle in the journey of success. It is just because of her courage and hard work, and she achieved success
Date of Birth: 21 September 1964
Age (as of 2021): 57 years
Birthplace: Kannur, Kerala, India
Zodiac: Virgo
Nationality: Indian
Home Town: Mumbai, Maharashtra India
Education Qualification: M.A- Economics.
A Real incident which occurs with Sudha Chandran
Actor Sudha Chandran has revealed that she asked to remove her artificial limb each time she is on a professional trip and reaches an airport. She also appealed to Prime Minister Narendra Modi to issue senior citizen cards for a better experience.
The 56-year-old actor shared her ordeal in a video on Instagram. She says in the video, "Good evening, this is a very personal note that I want to tell to our dear Prime Minister Narendra Modi Ji.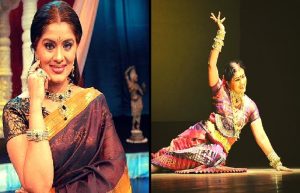 This is an appeal to the central government, I am Sudha Chandran, an actress, and dancer by profession, who has danced with an artificial limb and created history and made my country very proud of me."
After introducing herself as an actor and dancer, who made India proud by performing with artificial limbs, Sudha Chandran said in the video that each time she travels, she requests the CISF officials at airports to conduct an ETD (Explosive trace detector). Still, they ask her to "remove her artificial limb."
Sudha Always Do Before Her Performances
Always before her performances, Sudha explained each item of Bharatanatyam so that the audience could understand the emotion, melody, and rhythm of the dance from Pramod sati because she was sure that after getting the Jaipur foot, an artificial limb, she would be able to return to her dream of dancing again.
Terms Related to Sudha Chandran
sudha chandran
sudha
accident pic
leg accident real pic indian
chandran
sudha chandran biography
ravi dang
सुधा
sudha actress
sudha chandran leg
jayasudha age
sudha chauhan
about sudha chandran
sudha sudha
ramola sikand
sudha chandran biography in english
charitra chandran
sudha chandran children
sonu sharma motivational video
sudha chandran age
sudha chandran family
सुधा चंद्रन
actress sudha
sai baba ni aarti
leg accident
hindi day drawing
sudha chandran dancer
sudha chandra
sudha chandran prosthetic leg
sudha chandran artificial leg
Married Life of Sudha Chandran
who is currently seen in the show 'Ye Hai Mohabbatein,' tells us how she found the man of her dreams many years back? She says, "We were doing a film in which her husband Ravi Dang was an associate director.
It was not love at first sight. When she goes to the set, she wishes everyone and wishes him. But he did not wish me as he was busy and did not acknowledge her. That put me off. And then she spoke to him and asked him why did he not wish me back. He replied and told her that it was not in his protocol to wish her back, and he was busy with some production work and hence couldn't acknowledge it. And she was astonished to know someone like that.
She loves the fact that someone could be so firm and loyal and astonished that someone can stand and talk like that to a heroine. After that, she liked his honesty and professionalism. He was also not talking to many people and measured his words. Then he told her that his sister is a big fan of her and wants to meet her. So then gradually she met his whole family, and she loved meeting his sister-in-law and brother-in-law; they all were nice. Being Punjabi, they are all rooted and culturally inclined.
Then our friendship started and also our struggle. At that point, the opportunities were less, and he used to accompany her in her auditions and used to wait outside. That was huge support from Ravi because I have never had someone who used to be with her for my auditions in her family. After six years of rock-solid friendship, she realized she had developed a strong feeling of companionship. And she started missing each other."
The actress adds that she wanted to marry Ravi, but her mother was unwilling to approve of her. She says, "That point in time, our families were also looking for alliances. So, we announced our relationship, but my family was quite resistant as my mother never wanted me to marry someone from the industry and someone not of our caste. She always wanted me to marry a Tamil Brahmin. But she was headstrong that I would not marry Ravi without my mother's blessings. Then came a moment when her mother somehow agreed, and she got married in a temple in the year 1995. It's been 24 years since we were married.
Conclusion
This is an inspirational story of a person who got success in their field irrespective of their disability. Sudha Chandran lost her right leg in an accident when she was just sixteen. She overcame her disability and became an icon of Bharatanatyam. She also acted in different movies and television shows and earned fame.
Also Read: Vivek Oberoi – Biography, Education, Career, Net Worth
Helpful Resources
www.kuthira. com
Anushka Sen
carryminati Net Worth
Celebrities Fashion
celebrities News
Ms Dhoni Net Worth