Rekha – The Untold Story – an Indian actress who has appeared in Bollywood films.
Rekha in Bollywood was with the superstar Jeetendra. One of the first prominent affairs of Jeetendra was known for his casual flirting with his female co-stars. Both Rekha and Jeetendra had done in numerous films with each other. It is said that Rekha was quite serious about him, but the superstar was already married to Shobha Kapoor when he had met Rekha.
When rumours about their alleged dating started doing rounds, many termed Rekha as a 'home-breaker.' Thus, their relationship died a bitter death.
Rekha's life should have been one of privilege. Rekha instead grew up in neglect as her father allegedly never acknowledged her younger sister and her.
Growing up in Chennai, she was pushed into acting to support her family at a young age. It is alleged that her mother Pushpavalli got into gambling in a big way, and with no support from her father, Rekha had to take to acting. Rekha was only 12 when she debuted in the Telugu film Rangula Ratnam (1966).
Three years later, in 1969, aged only 15, she did her first adult role in the Kannada film, Operation Jackpot Nalli C.I.D 999. These early years proved traumatic for young Rekha as she was forced to grow up, much before time.
Biography of Rekha
Real Name: Bhanure khan Ganesan
Nickname: The Bollywood Queen Rekha
Date of Birth: 10 October 1954
Profession: Actress
Parents: Pushpa Valli, Gemini Ganesan
Zodiac: Libra
Height: 5 Feet 7 Inches
Rekha remains one of the gorgeous ladies in Bollywood who can give younger actresses a run for their money. As the evergreen diva, Rekha turns 60, read some unknown facts about her personal and professional life.
Career of Rakha
Rekha has lived a life in Bollywood that is no less than the heady mix of controversies, link-ups, successes, and failures. But the yesteryear actress always stood firm and didn't let anything come in the way of her glorious career.
Rekha appeared as a child actor in the Telugu film Rangula Ratnam (1966). Rekha made her debut as heroine in the successful Kannada film Goadalli CID 999 with Dr Rajkumar in 1969. That same year, she starred in her first Hindi film, Anjana Safar (later retitled Do Shikari).
She had two films released in 1970: the Telugu film Amma Kosam and the Hindi film Sawan Bhadon, which was considered her acting debut in Bollywood. She had to learn Hindi, as her naturally spoken language was Tamil. Sawan Bhadon became a hit.
Rekha — a star overnight. She subsequently got several offers but nothing of substance.
She appeared in several commercially successful films at the time, including Kahani Kismat Ki, Rampur Ka Lakshman, and Pran Jaaye Par Vachan Na Jaaye. Yet, she was not as regarded for her acting abilities.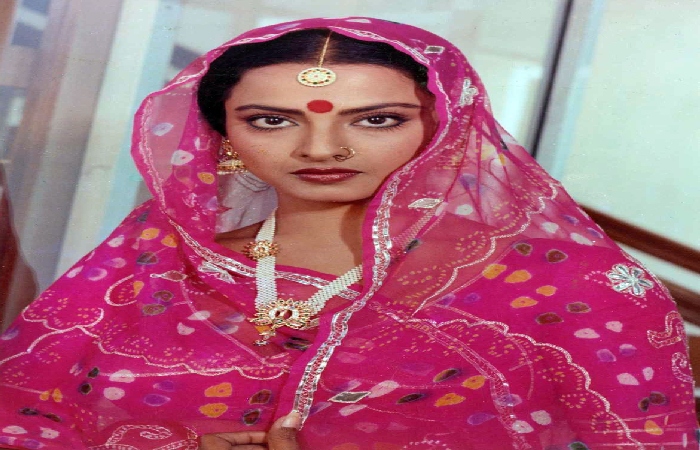 Her first performance-oriented role came in 1976 when she played an ambitious woman in Do Anjaane, co-starring Amitabh Bachchan.
However, her most significant turning point came in 1978, when she portrayed the role of a rape victim in the movie Ghar, alongside Vinod Mehra.
The film considers her first notable milestone, as she got critical acclaim for her performance and received her first nomination for Best Actress at the Filmfare Awards.
In that same year, she first attained fame with Muqaddar Ka Sikander, in which she co-starred once again with Amitabh Bachchan. Rekha was set as one of the most successful actresses of these times. The film opened to positive critical reception, and Rekha's performance as a courtesan earned her a Best Supporting Actress nomination at the Filmfare.
 In the 1980s Films of Rekha
Following her success with Muqaddar Ka Sikandar, Rekha starred opposite Bachchan in some films, most of which were hits. She had not only a successful on-screen pair with him.
When they starred in Yash Chopra's drama Silsila, the film was the most scandalous of their movies together based on their real-life relationship. Rekha played Bachchan's love interest, while Bachchan's real-life wife, Jaya Bhaduri, played his wife. This was their last film together, and they have never collaborated again.
Rekha credits this transform to were yoga, a nutritious diet, and regular, disciplined life. The film-column gossip may have contributed to her success. However, even critics had to admit that she had worked hard to perfect her Hindi and her acting. That she had transformed herself from a "plump" duckling to a "swan" in the early 1970s.
In 1981, she starred in the Urdu film Umrao Jaan. The film tells the story of a young girl, Amiran, kidnapped and sold in a brothel.
She follows her life story there as Umrao. Her portrayal of a sensitive courtesan consider one of her career-best performances, and she received the National Film Award for Best Actress for it. Overall, she played a courtesan with a heart of gold in several of her films; Muqaddar Ka Sikandar and Umrao Jaan following by several films that had her playing similar roles.
Facts of Rekha's Early Life
Surprisingly, the actress had a very tough childhood because her father never really looked after her during childhood or even acknowledged being her father. Maybe this is because,
Rekha's father never married her mother, and she remained an illegitimate child.
Not many of you would know that Rekha has one sister, five half-sisters, and one half-brother; from the same father. Even though they have different mothers, the actress shares a close bond with them.
The actress always dreamt of travelling the world, and that's why she wanted to become an air hostess, but unfortunately, she reject due to her young age.
Rekha with make-up, so much so that she used to make friends with air hostesses who would bring her best of make-up brands from abroad during her young days.
There was a point in Rekha's early life when she ever wanted to be a nun. That inclination came after she studied in a convent school with Irish nuns. Can you imagine the gorgeous actress was once upon a time forced to work in B and C grade Telugu films, only because of her poor financial conditions?
Youtube Celebs
Anushka Sen
carryminati Net Worth
Faisal Shaikh Net Worth
Jannat Zubair
Siddharth Nigam
Hollywood Celebs
Robert Downey Jr
Mark Ruffalo
Margot Robbie
Rowan Atkinson
Pooh Shiesty
Tony Evans
Charlie Chaplin
Dwayne Johnson
Demi Rose
Mumbiker Nikhil
Bollywood Celebs
Kapil Sharma- Net Worth
Nora Fathi Net Worth
Prithvi Raj Kapoor
Sahil khan net worth
Shah Rukh Khan- Fashion
Sudha Chandran
Vivek Oberoi's Net Worth
Sonu sood
Neha Kakkar Net Worth
Hema Malini
Tiger Shroff Net Worth
Sridevi's Fashion
Katrina Kaif Fashion
Juhi Chawla
Urmila Matondkar
Helen
Karan Johar
Diljit Dosanjh
Bappi Lahiri
Rekha
Himesh Reshammiya
salman khan
Nawaz Uddin Siddiqui
Faisal Qureshi
Mithun Chakraborty
Ushna Shah
Hiba Bukhari
Lara Dutta
Govinda Ahuja
Abhishek Bachchan
Kiran Bala Sachdev
Kader khan
Ekta Kapoor
Danish Taimoor
Prem Chopra
Rakhi Sawant
Aruna Irani
Aamir Khan
Tollywood Celebs
Akkineni Nagarjuna
Pawan Kalyan Remuneration
Nayanthara
Prabhas
Jr NTR
Rashmika Mandanna
Mahesh Babu
Rajnikanth
Samantha Ruth Prabha
Ravi Teja
Nithya Mennen
Jyothika Naidu
Nithin Reddy
Sai Pallavi
Sports Celebs
Ms Dhoni Net Worth
Shahid Afridi Net worth
Sania Mirza Biography
Saina Nehwal
Political Celebs
AkbarUddin Owaisi
Mukesh Ambani
Navjot Singh Sidhu
Imran Abbas
Bill Clinton
Elizabeth Olsen
A.P. J Abdul Kalam
Conclusion
Bhanurekha Ganesan, popularly known as Rekha, is the daughter of veteran Tamil actor Gemini Ganesan and Telugu actress Pushpavalli. She started acting as a child artist in the Telugu film Rangul Ratnam in 1966. She was still a teenager when she entered Bollywood, her first film being Anjana Safar. Rekha had taken up acting due to financial circumstances and not for aspirations. Adjusting to Bombay was a big task for her.