Madhu Bala -The Most Beautiful Lady Fashion Trends
Madhu Bala different persona, a form of beauty that affects you. A beauty that is complete in itself.
Born as Mumtaz Begum on February 14, 1933, in Delhi to a poor Pashtun family, she, later on, moved with her family to Bombay near the Bombay Talkies film studio. The young Mumtaz caught actress Devika Rani's attention and the studio's co-founder.
She gave her the name Madhu Bala and the rest are histories. She became a star in her own right with her first release, Mahal (1949), which was hugely successful.
Of course, the natural beauty that she was garnered interest around her, but what was more fascinating was her liberal sense of being. That's how she lived. An inhibited sense of freedom that also reflected in her style.
Classic Life Style of Madhu Bala
Timeless and elegant like never before, Madhu Bala poses for Life Magazine in her glamourous avatar. Donning a modish crisp white shirt with a pair of intelligent workwear pants.
She was bossing around her home in unfurled wavy locks and au natural makeup. We love how she seamlessly blends in her outfit with the creaseless covers on the bedding and the effortless pose she does for the shutterbugs, almost making our hearts beat a lot faster. This unseen picture of this beauty embarked on a significant chapter in the golden era.
Biography of Madhu Bala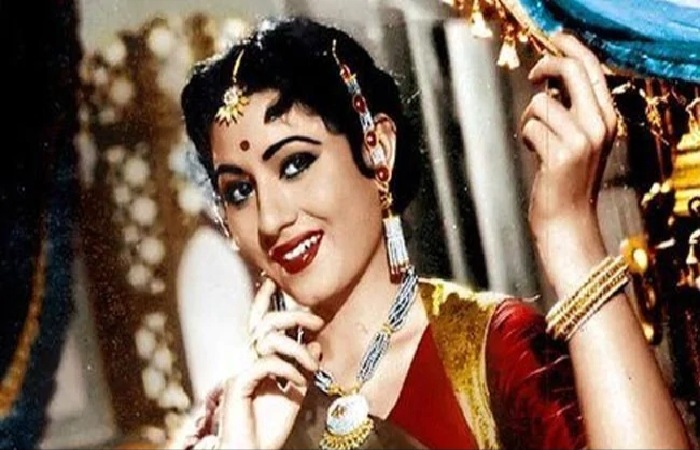 Madhu Bala, original name Mumtaz Jaehn Begum Delve, (born February 14, 1933, Delhi, British India—died February 23, 1969, Mumbai, Maharashtra, India), Indian actress who was the most celebrated female Bollywood star during the 1950s and '60s. She was especially famed for her beauty, so much so that her accomplished acting was often overlooked.
Dehlavi was still a child when her impoverished Pashtun family moved to a slum in Bombay close to the Bombay Talkies film studio. She acted in several films each year, becoming her family's primary source of income. Shortly after that, she began appearing in movies, and she was billed as Baby Mumtaz for her roles in Basant (1942) and Dhana Bhagat (1945).
The diligent actress attracted the attention of Devika Rani, a co-founder of the studio, who suggested that she call herself Madhu Bala, and, after Neel Kamal (1947) with Raj Kapoor, she was so billed. Her role as a ghostly young woman in the supernatural suspense drama Mahal (1949), in which she acted opposite Ashok Kumar, made her a star.
Madhu Bella
Madhu Bella's romance with Dilip Kumar ended because of her father's interference, although they co-starred in the epic blockbuster Mughal-e-Azam (1960), perhaps her best-known film.
married the comic actor Kishore Kumar, a frequent co-star, but the marriage was reportedly unhappy. In the mid-1950s it emerged that Madhubala afflicts with the ventricular septal defect. A congenital heart condition for which there was then no treatment.
By 1960 her health had begun to noticeably deteriorate. She continued to make hit movies for a time, however—including the romance Barsaat Ki Raat (1960), the thriller Passport (1961), and the comedy Half Ticket (1962)—but she spent her final years in seclusion before dying shortly after her 36th birthday. In 2008 India issued a postage stamp featuring her image.
Madhu Bala rose from humble beginnings to become the most captivating star India has ever produced. Madhu Bala was born Mumtaz Jehan Begum on Valentine's Day 1933, in a poor, conservative family of Pathan Muslims in Delhi.
 A Screen Goddess who was Madhu Bala in Matters of the Heart
Madhubala was a screen goddess like none other, loved by millions and a hugely successful star of her generation. Yet her life was full of pain and heartbreaks. On her 86th birth anniversary, a look at her eventful life.
There are few stars who stay on in public memory long after their time and one such star were Madhubala.
Terms Related to Madhu Bala
madhubala
indian actress
madhoo
bombay hair
madhu actress
indian adult movies
madhoo shah
Youtube Celebs
Anushka Sen
carryminati Net Worth
Faisal Shaikh Net Worth
Jannat Zubair
Siddharth Nigam
Hollywood Celebs
Robert Downey Jr
Mark Ruffalo
Margot Robbie
Rowan Atkinson
Pooh Shiesty
Tony Evans
Charlie Chaplin
Dwayne Johnson
Demi Rose
Mumbiker Nikhil
Bollywood Celebs
Kapil Sharma- Net Worth
Nora Fathi Net Worth
Prithvi Raj Kapoor
Sahil khan net worth
Shah Rukh Khan- Fashion
Sudha Chandran
Vivek Oberoi's Net Worth
Sonu sood
Neha Kakkar Net Worth
Hema Malini
Tiger Shroff Net Worth
Sridevi's Fashion
Katrina Kaif Fashion
Juhi Chawla
Urmila Matondkar
Helen
Karan Johar
Diljit Dosanjh
Bappi Lahiri
Rekha
Himesh Reshammiya
salman khan
Nawaz Uddin Siddiqui
Faisal Qureshi
Mithun Chakraborty
Ushna Shah
Hiba Bukhari
Lara Dutta
Govinda Ahuja
Abhishek Bachchan
Kiran Bala Sachdev
Kader khan
Ekta Kapoor
Danish Taimoor
Prem Chopra
Rakhi Sawant
Aruna Irani
Aamir Khan
Tollywood Celebs
Akkineni Nagarjuna
Pawan Kalyan Remuneration
Nayanthara
Prabhas
Jr NTR
Rashmika Mandanna
Mahesh Babu
Rajnikanth
Samantha Ruth Prabha
Ravi Teja
Nithya Mennen
Jyothika Naidu
Nithin Reddy
Sai Pallavi
Sports Celebs
Ms Dhoni Net Worth
Shahid Afridi Net worth
Sania Mirza Biography
Saina Nehwal
Political Celebs
AkbarUddin Owaisi
Mukesh Ambani
Navjot Singh Sidhu
Imran Abbas
Bill Clinton
Elizabeth Olsen
A.P. J Abdul Kalam
Conclusion
On her 86th birth anniversary, here's a look at her troubled relationships with the men she loved and lost. Madhubala's love life and life, in general, has been of much interest and has inspired a number of biographies.
The most recent was by journalist Mohan Deep, which reportedly showed her in poor light. According to a report on the book in Outlook.
Mohan Deep's the Mystery and Mystique of Madhubala claimed that Madhubala had not two but a long line of lovers. Haunted by her own insecurities until the very end.
She loved men. And lost them. Latif, Mohan Sinha, Kamal Amrohi. Prem Nath, Zulfiqar Ali Bhutto, Dilip Kumar. Pradeep Kumar, Bharat Bhushan, Kishore Kumar." He even recounts a time when she made an outrageous offer of buying Amrohi out of his marriage with an offer of ₹9 lakhs!
Helpful Resources